SP Multitask Wellbore Filter
Collect debris, clean, and filter fluid in one trip
The Sharp Razor SP multitask wellbore filter for deepwater, deep, and deviated well applications collects debris from the wellbore wall, brushes off the wellbore wall and filters the fluid, all in one run. It is a modular tool and can be run by itself, with blowout preventer (BOP) jet sub and riser brush and boot basket for BOP and riser cleaning, or as an integral part of a complete wellbore cleaning and displacement system with circulation tools, scrapers, brushes, and magnets.
It is primarily for use in pre-completion stages to clean the riser, BOP, and wellbore, and assist the fluid displacement, but can be run any time the wellbore has become contaminated with debris, such as after a milling operation.
The multitask filter features one-piece mandrel design without any internal connection. The tensile and torque ratings of the tool are higher than those of the tool joint. This allows the tool to be used in deepwater wells, deep wells, or deviated wells in which higher tensile and torque ratings are required.
The tool features a high allowable rotation speed. Allowing drillpipe to rotate up to 150 rpm significantly increases cleaning efficiency and allows it to be used in the drilling or milling applications in which high rotation is required.
The tool also provides a large inside diameter and annular flow areas. It allows more effective circulation and displacement operations.
The slidable brush design provides a large bypass flow area when running in hole, and diverts flow and allows more effective debris collection when pulling out of hole. The patent-pending debris-removal window allows simple debris-removal operation.
This tool uses field-proven screen technology that provides effective fluid filtering in harsh downhole environments.
The SP multitask filter is ruggedly designed and is ideal for deepwater, deep well, deviated well, extended-reach well, and high dogleg severity well applications.
Specifications
Tensile rating: higher than the tensile rating of tool joints
Torque rating: higher than the torque rating of tool joints
Allowable rotation speed: 150 rpm
Applications
Deepwater wells
Deep wells
Deviated wells
Extended-reach wells
Wells with high dogleg severity
Features and Benefits
One-piece mandrel design with higher-than-tool-joints tensile and torque ratings

Significantly mitigates completion and production risks and costs

Non-rotating stabilizers

Effectively cleans well without damaging or wearing casing wall

Highest allowable rotation speed of 150 rpm

Effectively cleans the wells without damaging or wearing casing wall

Large circulation areas

Improves circulation and displacement efficiency

No exposed fasteners that could vibrate loose

Improves operational reliability

360° coverage with slidable brush assembly

Provides large bypass flow area and more effective debris collection

Patent-pending debris-removal window

Allows simple debris-removal operation at rig floor

Field-proven screen technology

Provides effective fluid filtering in harsh environments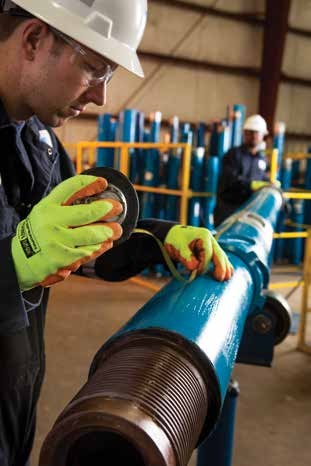 If you want to buy our products,you can contact us in the following ways.
1.Welcome to call the company sales hotline: ;
2.Send mail:
Linda@kwoil.cn whatsapp:+8613379187081
;